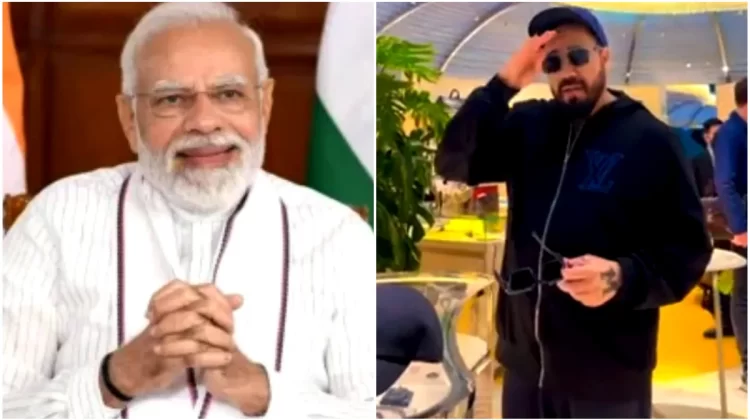 Mika Singh expressed his gratitude towards Prime Minister Narendra Modi
On Wednesday, Indian singer Mika Singh expressed his gratitude towards Prime Minister Narendra Modi for allowing the use of the Indian Rupee in various places, such as the Louis Vuitton store in Doha International Airport. Mika took to Twitter to share a video of himself shopping in the store, where he highlighted the acceptance of the Indian currency in Qatar. He also praised PM Modi for making the Indian Rupee a currency that can be used just like dollars.
Yes, that's correct. In recent years, Doha International Airport in Qatar has started accepting the Indian Rupee as a form of currency for transactions, along with other major currencies such as the US Dollar, Euro, and British Pound. This has been done to provide convenience to Indian travelers, who make up a significant portion of the airport's passenger traffic.
It's important to note, however, that not all businesses and financial institutions in Qatar may accept the Indian Rupee, and it's always best to check with the local business or institution for more information on currency acceptance. Additionally, the exchange rate for the Indian Rupee in Qatar may differ from the rate in India, and it may be more favorable to exchange the currency for the local currency (Qatari Riyal) before making transactions.
Fans of Mika Singh flooded the comments section with red heart emoticons and praise for PM Modi's work. Some users even commented on the strength of the Indian currency. Mika also shared another video of himself using the Indian Rupee at a restaurant in Doha, where he thanked PM Modi for making the currency widely accepted. Mika Singh is well-known for his hit songs, including "Sawan Mein Lag Gayi Aag," "Jumme Ki Raat," and "Aankh Maarey."
What are the other country where Indian Currencies are Used
The Indian Rupee (INR) is the official currency of India and is not widely used in other countries. However, there are a few places where Indian Rupee is accepted as a form of currency, typically in the surrounding countries in the Indian Ocean region, such as the Maldives and Bhutan.
In Bhutan, the Indian Rupee is widely accepted as a form of currency and is used in parallel with the Bhutanese Ngultrum (BTN). The Bhutanese Ngultrum is pegged to the Indian Rupee at a fixed exchange rate, and both currencies are freely convertible.
In the Maldives, the Indian Rupee is widely accepted as a form of currency, especially in tourist-oriented businesses such as hotels, resorts, and restaurants.
In addition to Bhutan and the Maldives, Indian Rupee is also accepted in some other countries, including Nepal and parts of Indonesia, as a form of currency, although it is not widely used. In these countries, it is typically used in border areas or in areas where there is a large Indian expatriate community.