[ad_1]

A new platform led by former senior executives at dating apps Bumble and Hinge is seeking to remedy the hostility that female and non-binary creators' experience on traditional social media platforms when trying to monetise content.
Sunroom, launched on Thursday with a $3.6 million seed round, is pitching itself as an alternative to TikTok and Instagram, with a specific focus on creators who operate in the body positive or sexual wellness space.
Led by former Bumble Australia executive Michelle Battersby and Hinge's former head of design Lucy Mort, Sunroom is backed by more than 50 per cent female angel investors and funds including Blackbird, Li Jin (Atelier Ventures), Sarah Downey, and co-founder Michelle Kennedy.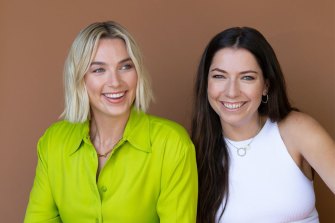 The so-called creator economy trend has picked up steam in recent years, as content makers (artists, musicians, writers and designers) reach out directly to their audience and cultivate their brand. While Forbes estimates the creator economy to be valued at over $100 billion, the industry is little understood, and often poorly regulated.
Sunroom connects creators with their audience through monthly subscriptions, direct messages, video calls, custom photos and series posts. Unlike the traditional social media platforms, Sunroom promises creators a pathway to not only receive fair value for their work but also freedom from unreasonable censorship.
"Too often we heard stories of mums unable to post on Instagram after trying to talk about breastfeeding, or sex-positive creators restricted for uploading a photo even though they fall within the apps guidelines, we want to give these people a place to be themselves while making a profit," Ms Battersby said.
One of the challenges the pair have encountered is a fixation on Sunroom providing a safe-space for sex workers and porn stars among a whole host of other creators. "When pitching to investors they would tend to get a bit obsessed over that angle," Ms Battersby said.
"A lot of people don't realise how many women are restricted from monetisation on traditional apps for a whole host of areas that aren't just sex-based."
When Ms Battersby was approached by Ms Mort to co-found Sunroom she was surprised so many of her male friends were so wary of the idea. "It made me hungrier to explore why they felt creating a space for women to share what we're calling 'women's business' was not something I should do," she said.
[ad_2]

Source link